Choose from one of our supported cars.
Receive weekly Data Pack files for your chosen car (.sto, .olap, .blap and .rpy files) inline with the Official Series Schedule.
Join Group Coaching Session for your car (Selected cars only. Check Discord for the current schedule: https://discord.gg/JQjbsbS).
Access Basic Setup Tutorials (via Discord).
Access Hotlap Guides (via Setup Sync App)
Access Advanced Track Guides (via VRS Add on only)
Receive Bronze role in Apex Racing Academy Discord, providing access to the driver coach for your car and our community.
Use our ARA Setup Sync Software to automatically download the chosen files for your car.
Open Wheel
Dallara iR-01
Dallara IR-18
Dallara F3
Dallara P217
Formula Renault 3.5
iRacing Formula iR-04
Mercedes-AMG W12 E Performance
Tin Top
Aston Martin Vantage GT4
Audi R8 LMS GT3
Audi RS 3 LMS
BMW M4 GT4
BMW M4 GT3
BMW M8 GTE
Chevrolet Cruze Stock Car Pro Series
Corvette C8R
Ferrari 488 GT3 Evo
Ferrari 488 GTE
Hyundai Elantra N TC
Hyundai Veloster N TC
Lamborghini Huracan GT3
Mazda MX-5
McLaren MP4-12C GT3
McLaren 570S GT4
Mercedes AMG GT3
Porsche 718 Cayman GT4
Porsche 911 GT3 Cup (992)
Porsche 911 RSR
Toyota Corolla Stock Car Pro Series
Rallycross
Ford Fiesta RS WRC
Subaru WRX STI
VW Beetle
Created by SDK Gaming https://www.sdk-gaming.co.uk/, the ARA Setup Sync App is linked directly to your iRacing account.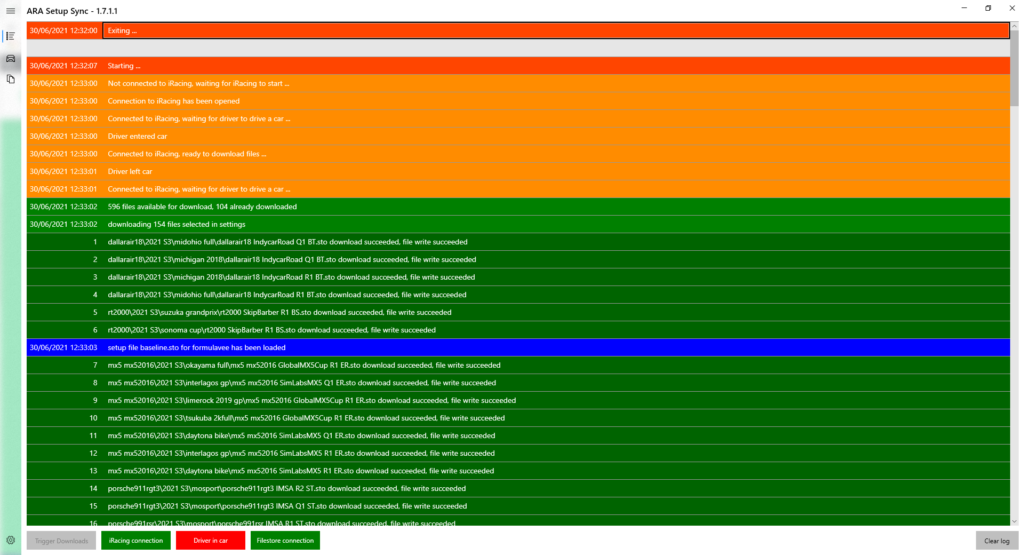 When you sit in the car in any session, be it private testing, hosted or official practice & race sessions, the software will contact our central server and download the latest version of all available setups, olap/blap files and replay files depending on your selection.
Bronze members will automatically receive the latest Data Pack the coach has produced as well as any revisions they released during the week.
These files are placed directly in the iRacing setup, lapfiles and replay folders stored in My Documents on your PC.
No longer do you need to go hunting for a setup, they all appear on your PC ready when you need them.
Check out the User Manual for the ARA Setup Sync App here: https://apexracingac.com/ara-setup-sync-app-user-manual/